Last month, Dynamic Health IT was in attendance for another meeting of minds hosted by HL7 International down in San Antonio, TX. While these events around CCDA and FHIR have become a regular part of our travel schedule, there's nothing routine about taking a deep dive into healthcare standards. Each trip provides an opportunity to combine ground-level development with high-level policy-making, up to and including interactions with HL7 and ONC policy-makers.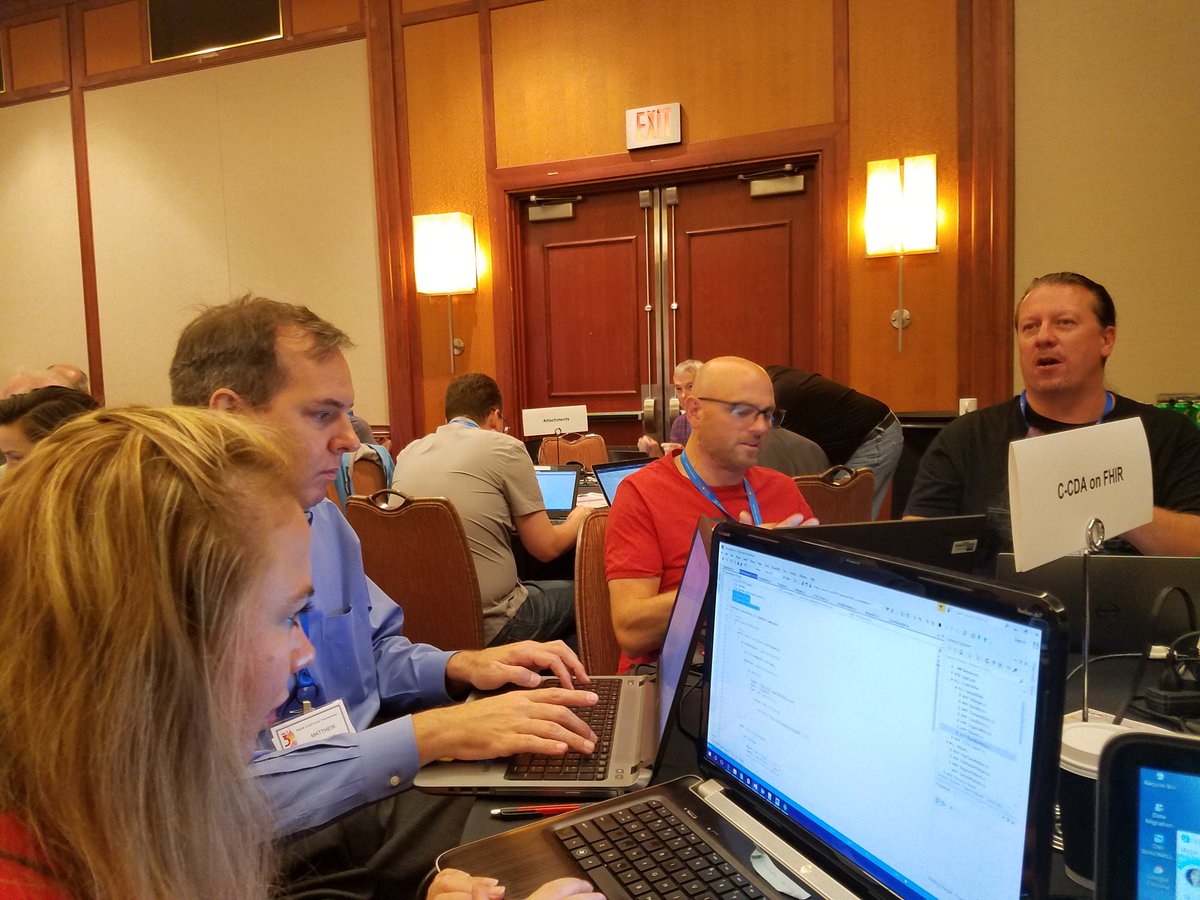 Coding away.
The ultimate goal, as always, is healthcare data interoperability. San Antonio, with its backdrop of canals, struck a fitting visual metaphor. As with man-made waterways, engineering connectivity in healthcare presents challenges at ever turn.
CCDA Implementation-a-Thon 4
San Antonio hosted the
fourth-ever CCDA Implementation-a-thon
. The scope of CCDA v2.1 - and its corresponding implications for 2015 Edition Certification - have made for wide-ranging discussions at each of these events. We'll focus on just a few highlights.
There was considerable interest in clarifying the links between concerns, goals and intervention. A source of confusion is that, as of this writing, there is an issue with the
ONC CCDA Scorecard
not scoring Care Plan documents correctly.
For health concerns, there were a number of clarifications that proved helpful. Concerns expressed by patient need not be collapsed into a code and, by nature,
will often need narrative
:
Health concerns may be coded, but may need to be represented in narrative form as there are likely to be terminology system gaps
On the topic of goals, there was discussion around differentiating between
patient
goals and
provider
goals. This may not always be a fine distinction captured by codesets, but where possible it will be defined by the author concept. Goals that have
both
a patient and provider author are coded as shared or negotiated goals
The concept of document-level authorship in general was conceptually challenging. Vendors can generate and recognize their own document roots, but may extends only within your own vendor system in many cases.
The CCDA event also featured
a presentation
by the Value Set Authority Center (VSAC). VSAC offers a Support Center to promote closer collaboration with value set implementers.
For those in the midst of 2015 Edition Certification, there was a discussion of Care Plan certification test data used in 170.315 (b)(9) and 170.315(e)(1).

FHIR Connectathon 14
FHIR itself is very accessible as far as resources and the rest API is concerned. But getting a broader understanding of everything FHIR touches and how it behaves - the goal for any given Connectathon - can be more daunting. For the 14th Connectathon, our focus was on the CCDA on FHIR track.

Over the course of the weekend, we were able to get a better understanding of the current status and purpose of CCDAs on FHIR in general as well as the following key insights:

Difference between composition and bundles.
How to reference a different server for resources used in our composition
How to style and render our bundle as retrieved from the server
Search parameters and where to find them
How CCDA on FHIR imposes additional constraints on existing resource types
The DHIT team was able to make it through all of the producer and some of the consumer scenarios, which we counted as a major success in two short days. Outside of our development track, we were able to gain quite a bit of information about strategies for integrating FHIR servers into our ecosystem, the viability of the Spark Production server, strategies for integrating OAuth, and more.
Organizationally, it is good to know for those coming into the FHIR fold that Work Group Meetings are where a lot of the development work on FHIR happens. Numerous work groups will be considering FHIR change proposals, working on FHIR profiles and resources and debating other aspects of FHIR implementation.
As well, there will be meetings of the
FHIR Governance Board
and
FHIR Management Group
discussing policies relating to FHIR. Within this framework, attendees and group members discuss items of interest such as tooling, new domains, particular technical issues, etc.
We hope to see you at the next stop!